For many families, the kitchen is a favorite place to be. Some use the kitchen to entertain guests, while others create delicious meals for their families. One study showed that American families spend over 400 hours a year in the kitchen. So, it makes sense that when many homeowners upgrade a room or space in their home, a kitchen remodel is an obvious choice. Whether you're looking for something modern, sleek, or cozy, there are plenty of luxury kitchen
design ideas and plans to accommodate your needs, budget, and home style.
You deserve to have a luxury kitchen in your home. Have you ever dreamed of having a space that feels more like it belongs to a professional chef or baker? This dream can be yours with a few upgrades.
Update Your Countertops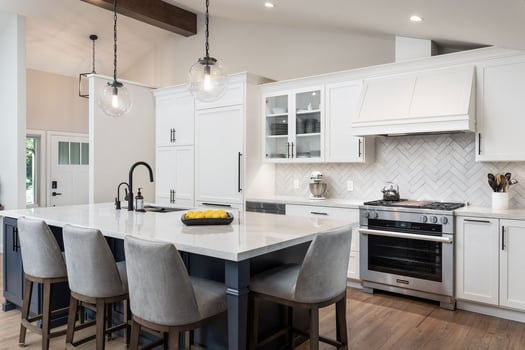 Countertops are one of the first features someone notices when they walk into your kitchen, and they can mean the difference between the look and feel of a luxury kitchen or one desperately in need of an upgrade. There are plenty of countertop materials to choose from, meaning there's one to fit your style and budget.
One of the primary upgrade considerations regarding updating countertops is choosing the right countertop material. There are a lot of factors to consider, from appearance to durability. Marble countertops, for example, can add a luxurious feel, but they have both pros and cons. As grand as they look, they may not be the best fit for every kitchen. Marble countertops also scratch and scuff more easily than other countertop surfaces. When choosing your upgraded kitchen countertops, be sure to select a material that fits the style and function of your kitchen.
Update or Add New Lighting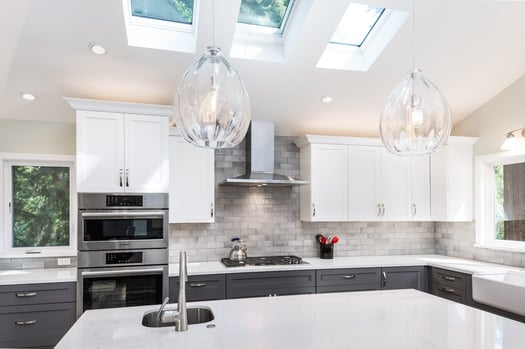 The lighting in your kitchen can make the difference between a dark and drab room to a place of opulence and functionality. Adding new lighting fixtures to fit the style of your kitchen can make a dramatic impact. There are many lighting fixtures, such as chandeliers or pendants. Not only can the type of lighting fixtures add to your kitchen's aesthetic, but the lighting's color can also make a difference. Instead of standard lighting, you can choose something more unique to your home.
New Cabinets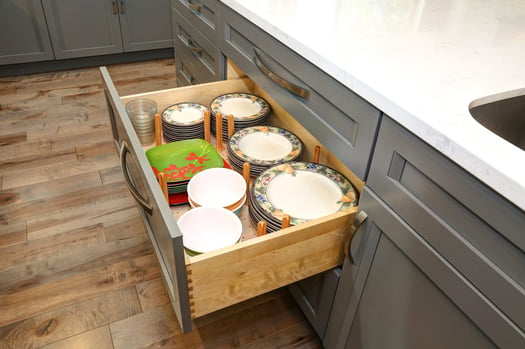 Outdated and dreary cabinets may keep your kitchen from having a lavish and lux feel. You can decide whether to reface or replace your cabinets as the homeowner. Refacing your cabinets and adding updated hardware can add new luster to your kitchen's appearance. However, your cabinets must be in good condition for this option. While refacing your cabinets saves time and money, there's nothing like the look of newly installed kitchen cabinetry. This kind of upgrade typically adds more value to your kitchen and home and gives you more control over the result. Hiring a professional contractor for this project ensures high-quality materials are used in the remodel.
Add a Kitchen Island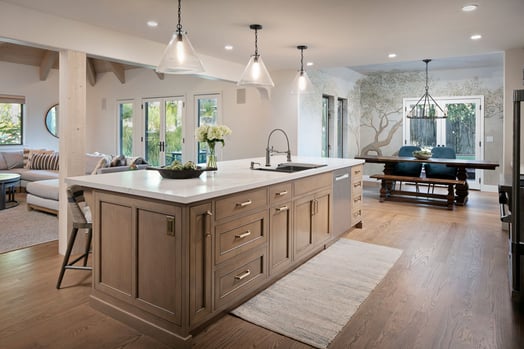 A kitchen island isn't simply a storage place- it's both a practical and beautiful way to upgrade your kitchen space. When you want to create an open layout in your kitchen, an island can be a way to break up the room and include additional seating and a focal point. When your kitchen island includes marble countertops or uniquely distressed cabinets, it's more than just a functional addition to your kitchen. It's a way to add elegance and charm to the room immediately.
Update Appliances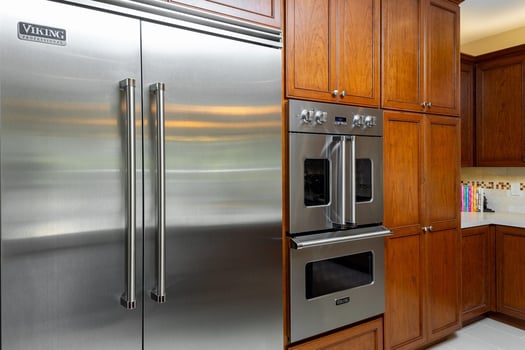 Adding professional kitchen appliances to your cooking space gives your kitchen an upgraded appearance while also adding to your overall home value and the level of luxury in your home. An example of upgraded kitchen appliances include:
Refrigerators and Ranges
Range Hoods
Double Ovens
Wine Coolers
Ice Maker
Some well-known and respected high-end kitchen appliance brands include:
Adding high-end appliances to your new kitchen provides greater functionality, efficiency, and visual appeal. Combining the process of upgrading the kitchen layout and upgrading your appliances creates less time in the remodeling project schedule. It allows the contractor to make sure everything fits like a glove.
Takeaway
The kitchen is an essential gathering space in your home. If your kitchen isn't a place you love, consider adding some of the luxury items discussed in this blog to your kitchen space. For more ideas, check out our website project gallery, pricing guides, and blog. When you're ready to create the kitchen of your dreams, we're here to help. We look forward to helping you create a luxury kitchen for your home.