What follows is the first of a three-part blog series created to help you ultimately; Pick The Right Remodeling Expert for your home and next remodeling project.
As owner and operator at Lewis Design Build Remodel, I frequently talk with people like you who are considering a home renovation. One question I often ask is, "How are you choosing which remodeler to work with?" Many people say they plan to ask for referrals, read reviews, and check references. All of which are excellent places to begin. A few of the most candid homeowners say, "Well, I haven't given it much thought. What should I be asking? What do I need to consider?" After all, hiring a remodeler is a big decision. Not only is it a major investment, but you will be working closely with whomever you choose for several months or more. You're not just choosing a company to do work for you, but you are inviting them into your home. You are building a relationship that will hopefully last a very long time.
Finding the right remodeling professional(s) for your project can be a process that may have some unexpected twists and turns. Even the handiest homeowners with a long track record of successful home-improvement projects often turn to the pros when handling a major remodel. A typical project can require everything from demolition to drywall to electrical to plumbing to flooring, finishes, and cabinet installation. Permits are needed for most projects, and somebody needs to be on-site to meet with inspectors and coordinate and oversee all the trades contractors who will be involved with your job.
Avoid The Unlicensed Contractor Trap
Due to the size and scope of most remodeling jobs, it's best to avoid the unlicensed contractor trap. Because the cost of remodeling can be high, some homeowners are tempted to hire a handyman or unlicensed contractor. Hiring a handyman may carry some risks. If you're just doing a little cosmetic facelift, a handyman might be a fine choice, although the work might look like it was done by a handyman rather than a professional carpenter and qualified subcontractors. The real risk is when a handyman acts as a general contractor but offers to save you money by doing the work on the sly, without permits.
Which Remodeling Project Models Do I Choose?
Deciding between the design-build and architect + contractor models represents a major fork in the road of your remodeling planning. For this reason, you should take the time to research the two options and weigh the benefits and drawbacks of each.
If working with a renowned architect is a top priority and if the construction budget is a secondary consideration, then taking the traditional architect + contractor approach might be the better fit. Where high design is paramount, hiring an architect to check the work of the contractor can be effective. This adversarial relationship between the architect and contractor can provide some checks and balances so that your project is built to the specifications, but it often requires the homeowner to step in and mediate between the two parties when disputes arise.
If, on the other hand, project cost and convenience are paramount, design-build might be a better choice. One of the main benefits of hiring an experienced design-build firm is transparency in pricing. An architect often designs to an ideal vision, and the homeowner doesn't find out what it will cost to build until the design is complete. Often, building costs come as a shock, and the homeowner can find that the building plans he or she paid for and pored over are a design that is too expensive to build. Experienced design-build firms provide construction cost estimates throughout the design process, which leads to a design that is within budget. In short, the main benefit of the design-build process is to help minimize surprises and keep projects on a tight schedule and on budget.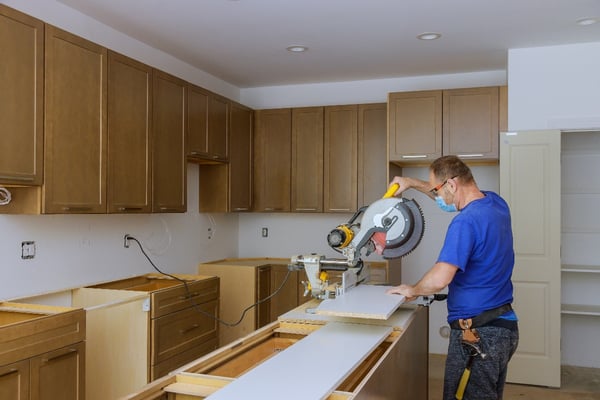 In the next installment of our blog series; Picking the Right Remodeling Expert, we will explore the following topics:
Fixed Bids Versus Time and Materials
Avoiding the Pie-In-The-Sky Pitfall
Financing/Budgeting
Starting Your Search
The conclusion of our blog series; Picking the Right Remodeling Expert, will explore the final topics:
Researching Contractor Candidate's Reviews, Websites, Etc.
Customer Testimonials and Recommendations
Company Licensing and Certification Verifications
Reviewing and Understanding Contracts.
For more information, please visit our website and download our eBook; 'A Guide To Hiring A Remodeler.' Our eBook Guide provides additional resources and includes helpful Worksheets that will make the process of Picking the Right Remodeling Expert For the Job stress-free. To get your own project started today, get in contact with us.