If you want to add value and comfort to your home, a bathroom remodel is a great place to start. Like any home remodeling project, a bathroom remodel takes time, and proper planning is vital to ensure a smooth process. To prevent unnecessary
costs
and delays during your bathroom remodel, please take a moment to review some of the most common
bathroom remodeling
missteps.
As a homeowner, preparing yourself and your home before starting any major project is essential. Working with an experienced contractor is an excellent way to ensure the result is what you imagined. Let's look at how you can prepare your bathroom for a remodel and what mistakes you should avoid.
How to Prepare Your Bathroom for Remodeling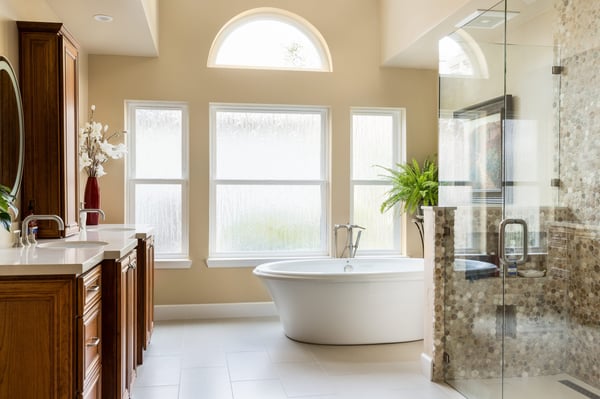 Even with multiple bathrooms in your house, there will be some inconveniences and change to your routine during the remodeling process. Before you begin your bathroom remodel, be sure to:
1. Create a budget
Every home renovation or remodeling project should start with a budget. Your contractor will work within your budget as much as possible, but the availability and cost of certain supplies could cause minor changes. Communicating with your contractor is the best way to keep track of the budget throughout your project.
2. Discuss the project timeline
You need to know what to plan for during the remodeling process. Many factors can impact your project's timeline, but the more you know about the construction process, the easier it will be for you to decide for your family. Discuss the process and timeline with your contractor so you know how to prepare your family and home.
3. Find a temporary space in your home
If you stay in your home during the remodel, you may have to get creative with your available space. If your home has multiple bathrooms, you might set up a temporary vanity to avoid taking up too much space in the available bathroom. You also need to find a space to store your toiletries and other items typically stored in your bathroom cabinets. Every remodeling project takes some preparation to ensure things run smoothly. Even a little effort before the project starts can help you feel at ease later.
What is the Average Time to Remodel a Bathroom?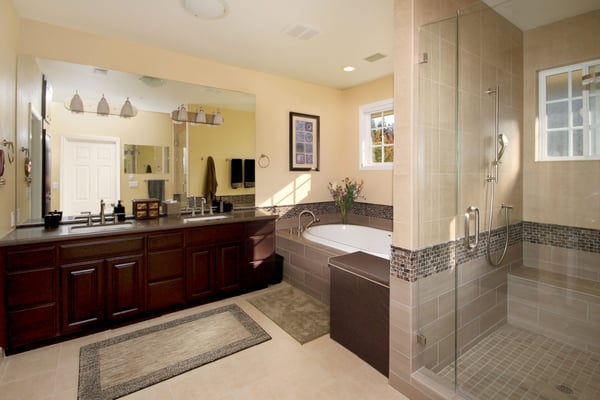 All home projects will take some time to get the job done right. When you hire a contractor to remodel your bathroom, several factors will impact the project's length, including the project's size and the availability of the materials. However, whether it's a large or small remodeling project, you can expect the bathroom remodel to take at least 3-4 weeks. A complete bathroom remodel will take 5-8 weeks on average. Remember that this is an average turnaround time; each bathroom remodeling project timeline will differ.
As you look at the project's timeline, it's realistic to include some extra time in case of any delays. Even if you have an estimate for the project's duration, factors could always slow a project down.
Top 5 Things to Avoid in a Bathroom Remodel
There's a lot of excitement at the beginning of the project, and a new bathroom can make your space feel more luxurious. However, some common mistakes can lead to delays in your project or additional costs. Best to avoid the following.
1. Lack of a Clear Budget
Whether it's a bathroom or kitchen remodel, you must start with a budget. If you don't have a clear budget from the beginning, you may spend more than you have, leading to a temporary pause in your project. Communicating your budget with your contractor upfront is the surest way to help the project run smoothly without hiccups.
2. Missing Ventilation
When you're remodeling a bathroom, ventilation shouldn't be an afterthought. Depending on the size of the bathroom space, there may not be a window, and even if there is, a window may not be enough! Since the bathroom has constant moisture, it can be a breeding ground for mold and mildew.
The best way to combat unwanted moisture is to add an exhaust fan. Installing a fan with a timer is more effective than an open window and can eliminate condensation to prevent moisture in the air.
3. Lack of Storage Space
Storage space in your bathroom is another essential aspect that may get overlooked. When you plan out your bathroom, remodel but don't include storage space, you may have to add additional cabinets later on, leading to an increase in your budget and a longer timeline for the project. Lack of storage space in your bathroom also leads to more clutter and mess, taking away from the comfort level in your home.
4. Improper Lighting
Lighting is critical to your bathroom remodel when you're getting ready in the morning! If you don't think through the lighting fixtures during your bathroom remodel, you may have too little or too much lighting. For a successful bathroom remodel, your bathroom should be well-lit without having a light that's too overbearing. There are many options out there for bathroom lighting. Whether you choose wall sconces or a chandelier, every style has an option.
5. Rushed Layout
Layout matters in every room of your house, but it's vital to have a well-thought-out design in the bathroom. Without a plan for the layout of your remodel, even minor details can lead to significant inconveniences. Things like the distance between the shower, toilet, or sink might not seem like a big deal until you realize you can't easily access the shower or have to squeeze into a small space to wash your hands. Work with your contractor at the beginning of the project to plan out a stylish and practical layout.
Bathroom remodels can add a level of comfort and value to your home. Even though they can take up to 8 weeks for larger projects, having a bathroom you love is worth it. A significant bathroom remodel isn't the kind of project to complete yourself, but with an experienced contractor, the project can run smoothly from start to finish.
Ready to create a bathroom you love? Check out our pricing guide, or contact Lewis Design Build Remodel to get started.