A remodeling project for your home can add a new level of luxury. Whether you're upgrading your kitchen or your bathroom, there's no doubt you'll experience more satisfaction and comfort when the quality of your home is improved.
A study by House Method in 2022 showed that bathroom remodels were the most popular remodeling project for homeowners. If you're considering a bathroom remodel or planning on selling your home in the near future, you might be wondering if a bathroom remodel will add value to your home. In either case, you've come to the right place.
Any home remodeling project can be an upgrade when properly planned and executed and will likely add some value to your home. The question then becomes how much value it will add and whether it is worth the cost. Let's look at how much a bathroom remodel may cost versus how much value it will add to your home.
The bathroom and kitchens in a home are the rooms that need the most attention when it comes to increasing home value. A major remodel in either of these rooms can significantly impact your home's feel, flow, and financial worth.
After a remodel, you'll likely enjoy your home more and experience a better quality of life. But if you're wondering if it will also add value to your home, the short answer is yes, a bathroom remodel will add value to your home. How much value it adds will depend on several factors, including the scope of the project, the value of your home before the remodel, and the location of your home.
How Much Does a Bathroom Remodel Increase Home Value?
In one study, the average bathroom remodels Return On Investment (ROI) was more than the renovation cost. California had one of the highest rates for ROI on remodels, with the average homeowner gaining a 74% return on their investment.

Overall, a complete bathroom remodel could raise the value of your home by up to 3%. If your bathroom was recently updated, but you still want to increase the value of your home, you may consider a minor renovation. However, if your bathroom is older and needs to be updated, you'll get the highest ROI by renovating more.

The more money you spend on your remodel, the higher your return. This is especially true in the Pacific region of the US, which has the highest rates of ROI on bathroom remodels.
Is It Worth Renovating the Bathroom Before Selling?
If you plan on selling your home and trying to increase its value, you may consider doing a bathroom remodel simply for the value it will add. In most cases, a bathroom remodel will lead to a significant ROI. However, before you consider remodeling the bathroom, you may want to ask yourself these questions:
When was the bathroom last updated?
What additions will I add to the bathroom?
What will the cost of the remodel be compared to the value?
If your bathroom needs an upgrade, it might make perfect sense for you to remodel it before you sell. But it's important to carefully consider what additions you'll make and how important bathroom remodels are to buyers in your area. There are various types of bathroom remodels ranging from midrange to upscale. Hiring an experienced contractor you can trust is critical to help you decide what bathroom remodel works best for you.
What Adds the Most Value to a Bathroom?
When you remodel a bathroom, the project can range from simple to complex. If your bathroom is in good condition, you may only replace and fix a few minor details. On the other hand, if your bathroom has structural issues or water damage, you might consider a complete remodel. No matter what type of remodel you choose, here are some steps you may include that can add value to your bathroom and home.
Redo the Bathroom Tile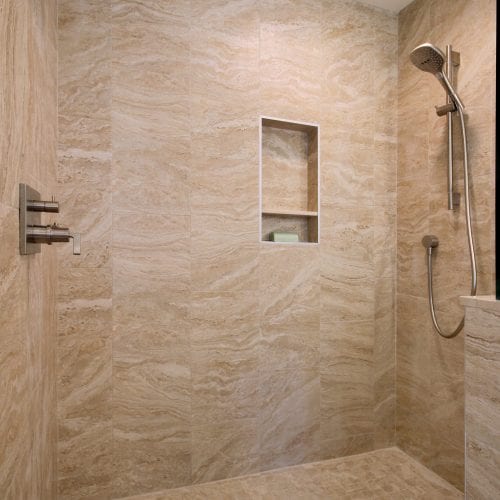 Completely replacing the tile in a bathroom can transform your bathroom during a remodel. The various options for types of tiles, colors, and designs give you complete freedom to create a space you love.
Add Storage Space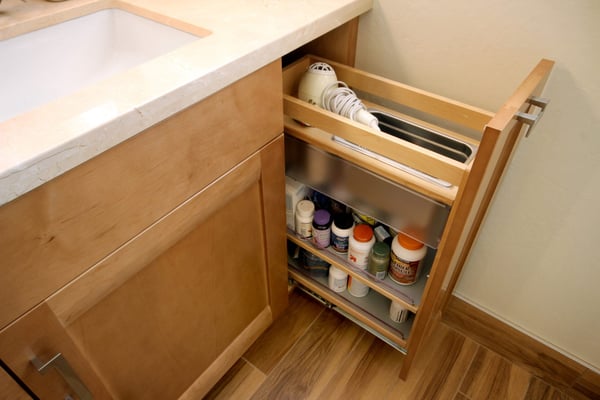 Storage space can be one of the most valuable aspects of a bathroom, especially when it's well-planned. Thoughtful and clever storage in a bathroom is essential when you're ready to sell your home, and there are many creative ways to add storage.
Update the Lighting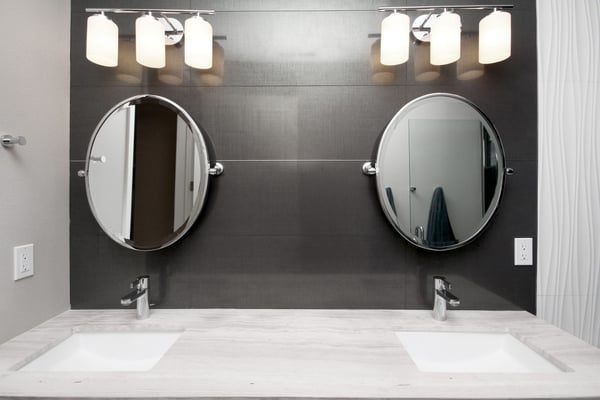 Lighting can make or break the ambiance in a bathroom. Lighting that's too harsh can take away the spa-like feel you might be trying to achieve, but lighting that's too dim is impractical and can also be a hazard. Updating the lighting fixtures is a great way to make the space feel more luxurious while adding a level of practicality as well.
Upgrade the Plumbing Fixtures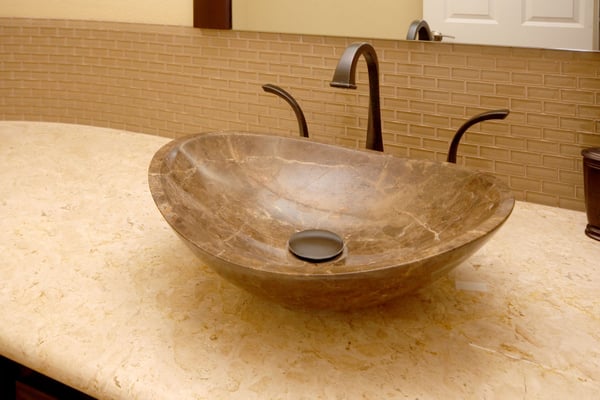 The plumbing fixtures in the bathroom are one of the simplest ways to upgrade the space. Age and normal wear and tear can take a toll on fixtures such as the sink faucet, and replacing them is an easy way to add to the value of your home. There are many options to choose from that can match the style of your bathroom.
Paint the Walls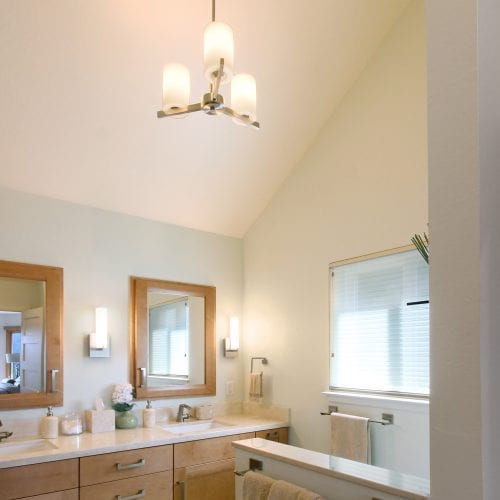 Painting the walls can make a huge difference in the appearance of any room. This upgrade has a minimal cost but can lead to a high ROI. Even if your bathroom walls are in good condition, consider changing the color of the paint to match your updated space.
Refinish Your Bathtub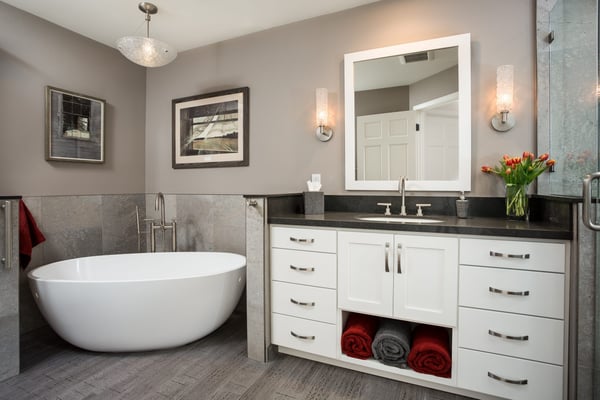 Upgrading your tub is another way to add significant value to your bathroom after a remodel. Depending on the quality of your tub, you might consider adding a new one. But if your tub has minor wear and tear, you can upgrade your bathroom but lower your overall cost by refinishing the tub instead. If the tub is still in good condition, the refinishing process can help it look like new again.
A bathroom remodel is a great way to add value to your home. Especially in California, the value it adds can be significant, with a 70-80% ROI after selling. At the very least, you'll have a new bathroom to enjoy while living in your home, and you'll be able to increase the price of your home when you decide to sell.
Luxury bathroom remodels can take time and expertise to complete the project properly. There are many design options that can fit your home and add to the overall value. Check out our blogs and pricing guides to find out your ROI, and contact us today to get started.