An often overlooked aspect of any kitchen remodeling project lurks on the very four walls of the kitchen itself. No matter the medium; paint, porcelain, glass, or stone, the kitchen backsplash is the unsung hero of kitchen style, design, and function.
The backsplash can improve the kitchen's appearance while shielding kitchen walls from damage, act as the primary focal point of the space, add functionality, and increase home value. If you're considering a kitchen remodeling renovation in the near future, the following Kitchen Backsplash Trends will most certainly create a wonderful focal point for your kitchen.
There IS No Taking A Backseat When It Comes To Backsplash Selection: Top 9 Kitchen Remodeling Backsplash Trends
1. Ceramic or Porcelain Tiles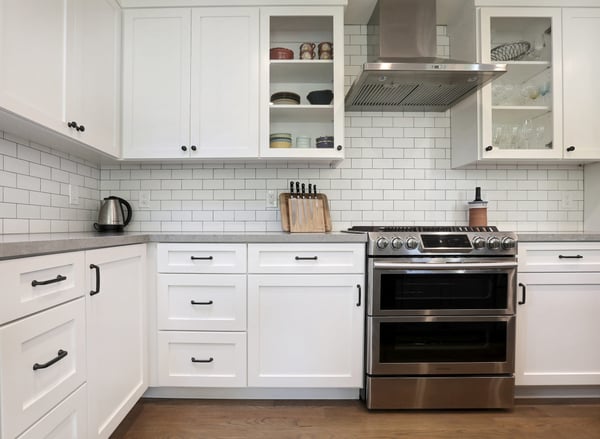 These classic materials used over the centuries are often selected due to their lasting durability, low maintenance, and functionality. Available in a wide range of colors and styles, ceramic and porcelain tiles can accommodate any newly remodeled kitchen.
2. Countertops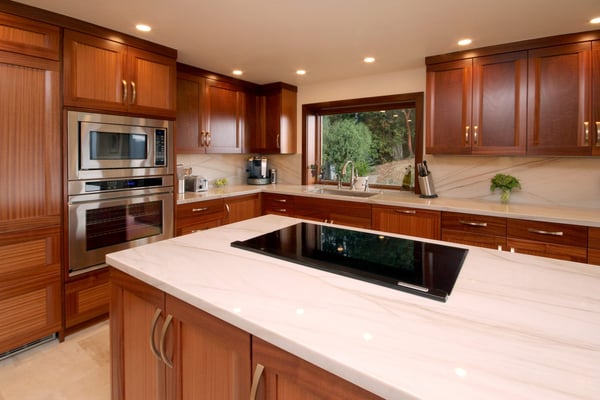 Utilizing countertop material as the primary kitchen backsplash adds continuity to a newly remodeled kitchen. Often, countertop backsplashes are an extension of the countertop, frequently used in contemporary kitchen design, offering a lustrous appearance.
3. Glass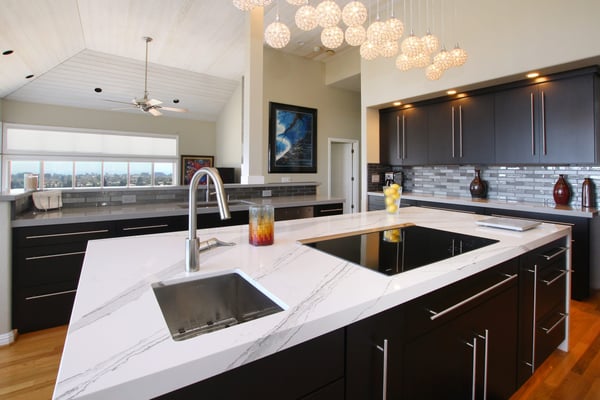 Available in a wide variety of colors, glass affords many homeowners a backsplash option that won't fade or discolor with time. Glass is also very easy to maintain with easy clean-ups due to the nonporous material.
4. Brick and Natural Stone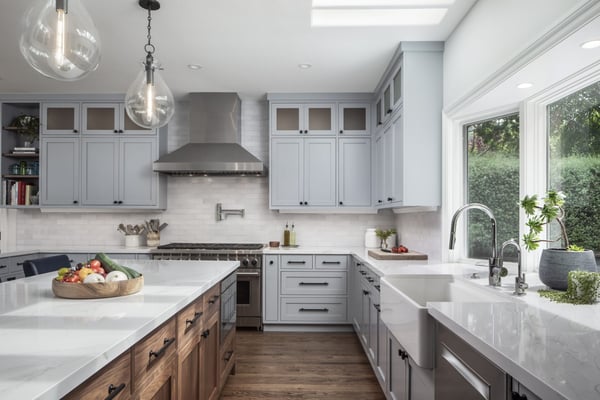 Brick is a rugged, affordable, and rustic material that adds warmth and character to kitchen spaces. Due to its unique aesthetic, contour, and porous material, natural stone is more expensive and requires additional homeowner maintenance compared to the brick alternative.
5. Textured Tiles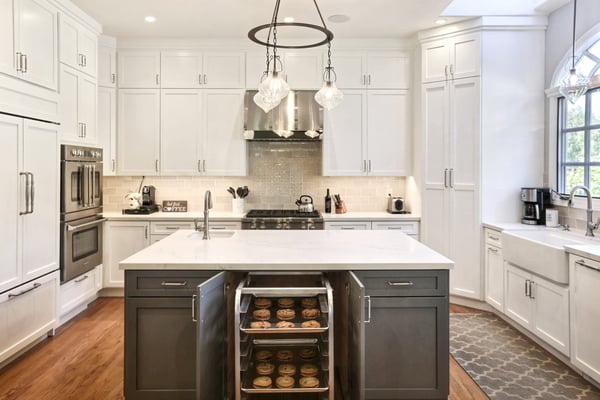 Textured tiles can give a kitchen depth and flair and add an element of intrigue that typical smooth surfaces frequently lack. Various textures, such as raised patterns, grooves, or 3D effects, create a multi-dimensional backsplash design.
6. Mosaic Designs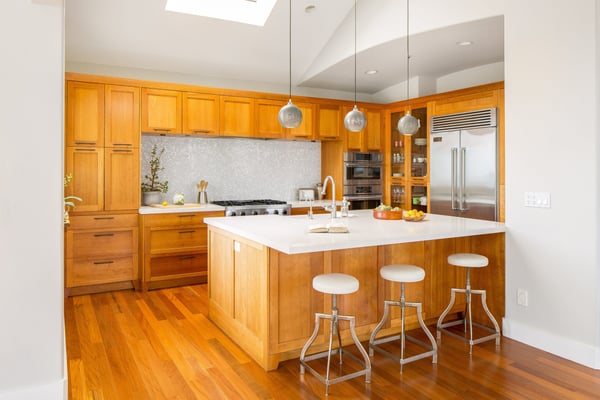 Mosaic tiles are available in various forms, dimensions, and hues, allowing homeowners the opportunity to make a genuinely distinctive and striking backsplash design.
7. Bold Geometric and Artistic Patterns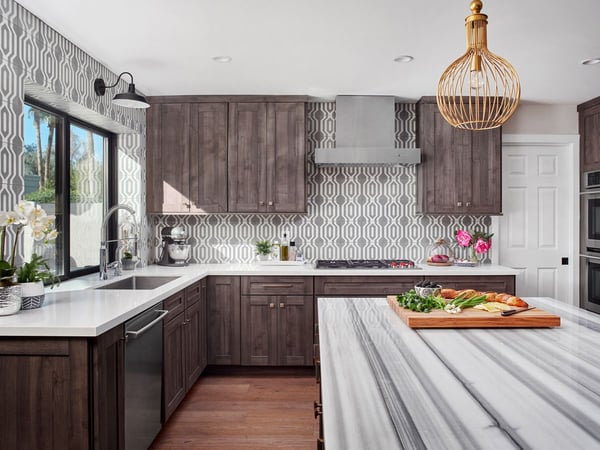 (Image courtesy of Caine & Company)
Consider utilizing tiles with striking patterns or designs if you want a backsplash with more artistic flair. Add geometric patterns to introduce bright colors or contrasting shading, adding unique insight, personality, and a modern touch to any kitchen.
8. Mixed Materials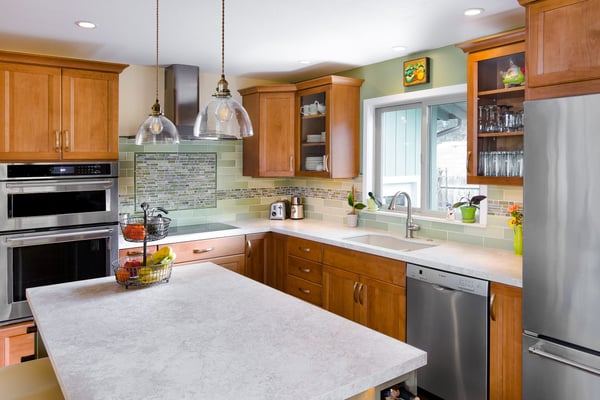 Any backsplash can be realized in a distinctive and fashionable style by combining and matching various materials. Consider combining tiles with glass, metal, and wood for a truly unique appearance.
9. Marble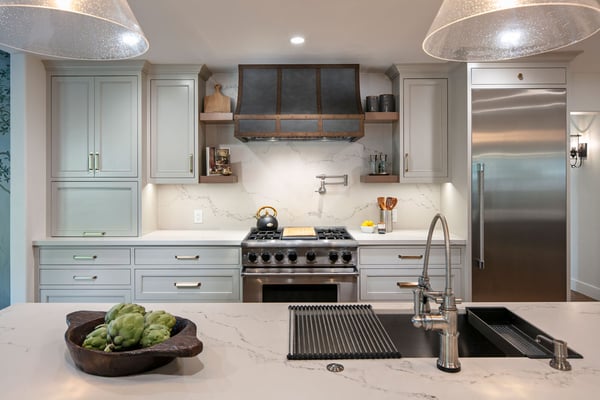 Marble is a classic material that never goes out of style, and it's also incredibly durable and easy to clean, making it an excellent choice for a kitchen backsplash.
Current kitchen remodeling trends clearly define the importance of the backsplash and its fascinating impact on the age-old concept of form over function. Separate from the mere selection of materials, the backsplash affords form and function, elevating the aesthetics and practicality of your newly renovated kitchen. To transform your kitchen or learn more about our kitchen remodeling services, please contact us or visit our Kitchen Remodeling Project Gallery.